I liked these converters for a long time from Ruideng Technologies, since their 1st version DP20V2A.Since then I have tried them all, except for the buck-boost DPH and the latest RD6006.And all left me a good impression, as well as communication with their manufacturer.But back to the module DPS5005 So, this converter, as you can see and As its name suggests, it can output 0-50V voltage with 0.01V accuracy and 0-5.1A current with 0.001A accuracy. The sheet with instructions is no longer included, but is offered to be downloaded via a link or a QR code. Because the design is tight and compact, it is not such an easy task to snap off the latches, and care must be taken not to break anything. Rear view with the connector removed: In addition, the voltage of 60V leaves practically no margin, although the channel resistance of the 2SJ652 is almost 2 times less than that of the IRF5210 (38mΩ vs. 60mΩ), so it probably makes sense. But if you take an intermediate version with only a USB module, then you can still buy a Bluetooth module for it. Keep in mind that if you take the option without communication, then later, if you suddenly want communication, then you can't fasten it in any way. Output electrolyte 220 uF 50V and next fuse F1 20A The converter is a sandwich soldered from 3 boards placed in a plastic case. Conventionally, they can be divided into an indication, control and power board, but this is conditional.
The module arrived in such a foam box.
On the top left there is an AO4264E (N-channel 60V 13.5A) MOSFET in a SO-8 package, which is missing from the DPS3005: View from the radiator side:
Same as on the DPS3005, here, next to the power connector on the control board, a microcircuit is visible DC/DC converter XL7005A with input voltage from 5V to 80V and an operating frequency of 150 kHz. And similar to the DPS3005, here on the left you can see the SDB628 (2V-24V, 1.2MHz 2A) Step-Up Converter (labeled B6288G) and the LM321MF op-amp (labeled A63A), and here is the N-channel MOSFET 2N7002, which is on DPS3005, is missing here (as I understand it, AO4264E was installed instead). Again we will make a laboratory power supply, compact, and, if possible, budget.
There are 3 options for such converters: without communication – the cheapest option, with communication via USB module – more expensive, and a converter with communication with 2 modules: USB and Bluetooth – the most expensive. Such characteristics
are pretty good to make a laboratory power supply based on it, while being compact, and, no less important, quite budgetary (some links contain prices – these are either for which I bought or which were at the time of writing the review).
Indicator 1.44": But still, during the operation, I have accumulated quite a lot of constructive solutions for laboratory science based on it, which all together have not yet been published. So, let's start with the DPS5005 converter. Yes, these DPS converters have already been reviewed several times, and on Muska (starting from DP50V5A, well, then DPS5005 50V / 5A (version with USB / BT), DPS5005 with a transformer, laboratory PSU on DPS5005, and in other places, and, probably, everything that is possible has already been said. And Schottky diodes SS14 (1A 40V) and SS110 (100V 1A). I immediately chose the maximum – with both modules. Hello, dear Muscovites! This review is a logical continuation of my previous review, where I made a 32V 5A laboratory power supply from DPS3005. The transducer itself was packed in such a plastic box Which is generally reasonable. But if everything is done carefully and carefully, everything will work out. This sandwich snaps into the body with 4 latches.
Communication port on the right.
Input circuit is represented by two electrolytes 330 uF 63V: So, a little reveal.
with polyethylene foam inside: This time we will increase the rates volts to 50V, and, accordingly, use the DPS5005 module for this.
Although the power transistor is represented by a rather powerful MOSFET 2SJ652 (P-channel 60V 28A), I was surprised that it is inferior in power to the IRF5210 (P- channel 100V 40A)
MOSFET, which is used in a less powerful 160 watt DPS3005 module. And here is a dual, common cathode, high-voltage Trench MOS Schottky VF40100C clamping diode (100V, 20A / per diode), placed side by side on the same heatsink, is already much more powerful than the RB085T-60 diode used on the DPS3005:
And I thought that they would be interesting to someone, and decided share them with you.In general, stock up on tea, cookies, patience.Warning: traffic!(there will be a lot of text and photos).Who does not scare – welcome under cat.
RD DPS5005 Communication Version and laboratory assistant based on it.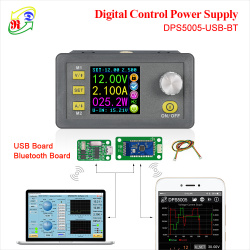 Connecting the connector to it is very inconvenient – you need to use tweezers or something similar. < br />Compared to the previous version – DP50V5A – significant differences are noticeable, which indicates that the manufacturer does not stand still, but improves its modules with
time.